BOSS WOMAN 131 | SEPERATE TOGETHER
A PINA COLADA WITH SIOBHAN FROM SEPARATE TOGETHER
What is your drink of choice? (doesn't have to be alcoholic)A Pina Colada
Tell us a little bit about yourself?I'm one of four kids (three brothers). I love scuba diving and being Canberra bred, I enjoy my lake runs.
Growing up, I was never that popular kid at school–Mum called it "unique". I grew up wanting to be a teacher because I liked education, but I started studying social work at university, before finishing with degrees in social science and law.
Although I've not been married or divorced, I really value relationships—building them and helping others to maintain them, which is ever so important during a separation and afterwards, especially where the couple are parents.
Tell us about Separate Together and how it came to beThe idea for Separate Together came to me when I was watching an episode of Seinfeld-ha! I discovered there was no-one working in the separation agreement space addressing the problems separating couples face of:
– Not knowing where to start
– A traditional legal process that is divisive and combative
– An experience that feels complicated and overwhelming
Our solution to these problems has been to make the complexity and anxiety of separating simple and easy so that couples can achieve the very best outcomes for them and their family.
We do this in a unique way through an educational, handholding and supportive experience so couples can reach an agreement together and we can prepare the paperwork to make it all official. I wrote a book which breaks down the process from start to finish, which excitingly became a best seller.
We've gone on to win three national business awards and Australasian Lawyer has twice named us as "one of Australia's most innovative firms changing the business of law" because of the outcomes that we've helped our clients to achieve with our approach.
How can we support Separate Together? Supporting Separate Together means telling your friends, family and colleagues about us being THE starting point for anyone separating or thinking about it. Our free online AMICABLE Separation Quiz gives people a personalised roadmap of some suggested practical next steps to help them get the right information at the right time, wherever they are on the separation journey.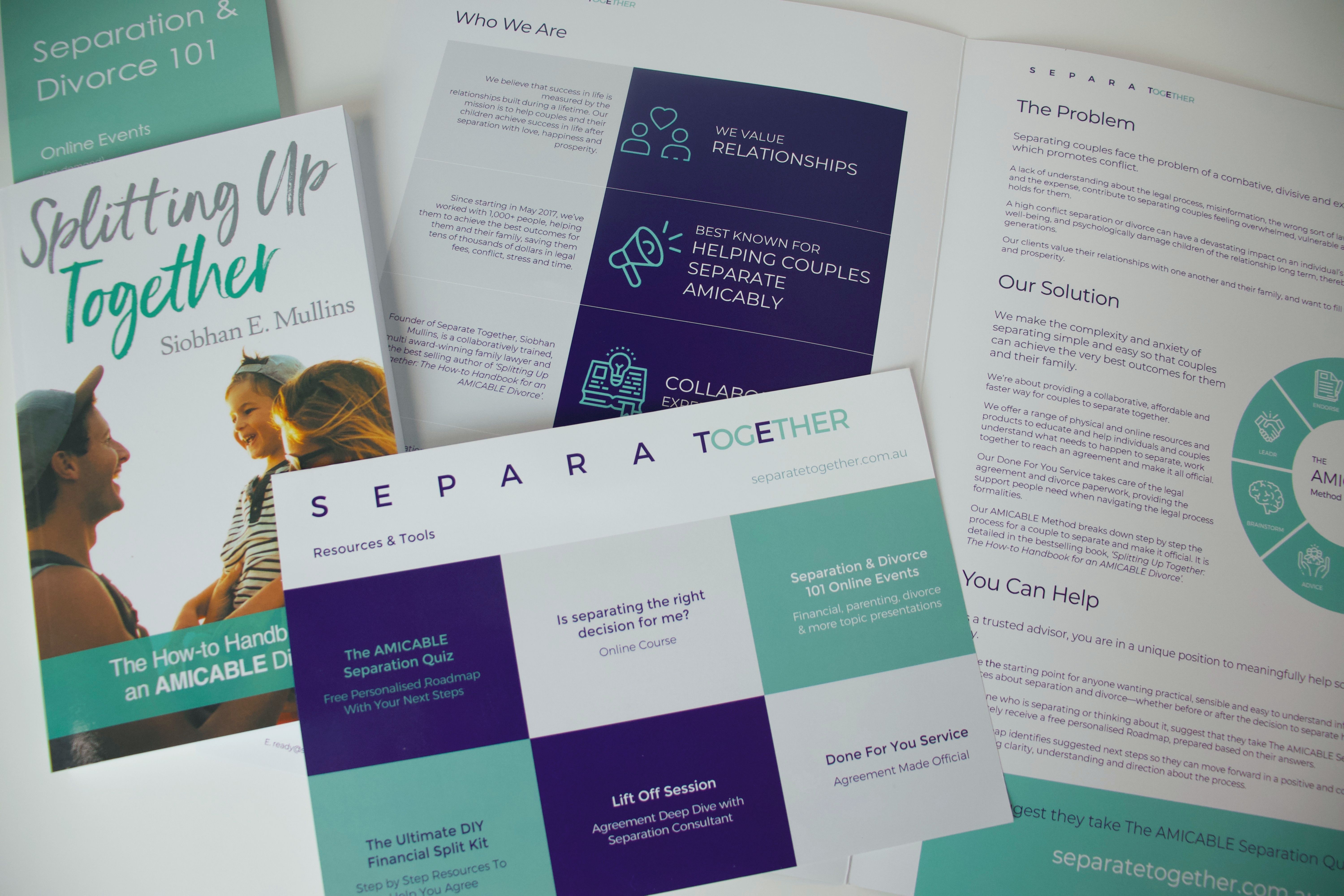 Any advice for those who are thinking about turning their dreams into a reality?First off, trust your gut. Intuition is really important, and you get that from experience in doing what you know and love.
Second, always have a back-up plan. No attempt at success will ever be a failure if you learn something.
Lastly, take everyone's opinion with a grain of salt.