A welcoming community connecting kind and inclusive women across Canberra
You have the vision for the life you want to live. We have the community of like-minded local women to CHEER you on, EMBRACE your growth and ELEVATE you.
Whether you're a Canberra business owner looking to connect with other local women, or you're here to grow your network of supportive relationships, theCBRwoman is a place to connect, inspire, dream, encourage and uplift women in the community.
We understand that life and business can be a lonely ride!
Here, you don't have to do it alone.
As a community, we'll walk with you as you get out there, explore how your ideas can come to life, and make them happen!
Who we are
We are Canberra women. We all have stories. We create and embrace opportunities.
As a community, we strive to give women as many opportunities as possible to:
Collaborate and network

Promote your business

Showcase at markets

Build new skills

Share your story and expertise

Give back to the community.
If you're looking for support, have an idea to share, or want to collaborate on something, we're here to help you bring your vision to life!
Our purpose
We are the place in Canberra for women to connect and support each other to thrive within their local community.
Through connection and collaboration, we can create a future where women experience less isolation and greater opportunities to embrace who they are and what they want from life.
Locally, our goal is to embrace and elevate all Canberra women into a connected force of incredible humans doing what they love!
What we believe
​We believe that women need connection with other women, and that together we can grow stronger and elevate our standing within the Canberra community.
We believe small businesses can share more success by working together and leveraging shared networks.
We believe in the power of community to create positive change and enable greater success for everyone.
Our Impact
At our heart, we're about connection, collaboration and community. In living these values, we create opportunities to give back to our own community, and all the women and businesses within it.
Meet the woman behind theCBRwoman
Hi, I'm Gabrielle (she/her) – Founder of theCBRwoman, business woman for over 10 years, breast cancer fighter, mental health advocate and lover of all things women, champagne, cheese, sport, rap music and dancing.
Like you, I'm a woman who dreams big. My purpose in life is about elevating and supporting women in whatever ways I can.
So, building a community to elevate women in Canberra was a no-brainer.
theCBRwoman began as a place specifically for women in business…
…yet it's naturally grown and evolved to include women who aren't in business, but who want to connect with other like-minded women and form meaningful connections, locally.
In fact the resounding #1 shared hope from our incredible members is just that…
…to create connections with other like-minded women, be inspired, feel empowered, and have an opportunity to empower others.
Whether that's through a supportive phone call, catching up over a coffee or lunch to help you get unstuck or find direction and accountability, or through co-creating our community events and workshops, it's the sharing of experiences and learning together that fuels my passion!
Nicole
Mindset and Confidence Coach
Nicole Patricia is a Mindset and Confidence Coach helping women grow and scale their businesses with confidence. She supports her clients predominantly through group coaching and 1:1 mentorship, using evidence-based mindset tools drawn from Neuro-Linguistic Programming, Hypnotherapy and EI (Emotional Intelligence).Exclusive offer for theCBRwoman – Business Breakthrough Session – only $219 (Normally $397!).Ready to stop self-sabotaging & start moving towards effortless action & real results in your business? This is for the ambitious entrepreneur who is ready to stop playing small & ready to breakthrough to the next level in their business. In this 1:1 coaching session, we will uncover, release & reprogram the mindset blocks & limiting beliefs that are holding you back from achieving the results you want in your business. Together with a custom action plan focused on achieving your business goals with ease, this coaching session is the massive clarity and confidence breakthrough you've been looking for!Inclusions:
Nicole deeply cares about the individual journeys of women, their mission and what they are here to achieve. She knows you're here to create deep, meaningful and lasting transformation in your business and she is so excited to support you, so that you can thrive and successfully grow the business of your dreams. She holds several international coaching certifications including Diploma of Life Coaching, Master Practitioner of Neuro-Linguistic Programming (NLP), Hypnotherapy and DISC Behavioural Profiling Training. She has also spent 10+ years working in education as a qualified High School Teacher with a B. Ed.
90 minutes coaching session via Google Meet

Custom action plan with step-by-step implementation

Follow up email with session notes
Tracy
Our beautiful women's circles host
Tracy is a Reiki & Flower Essences Practitioner and Life Alchemist. Tracy is a heart led, manifesting generator, dreamer, mum of 4 boys and a wildflower. Tracy's mission is to teach and enlighten as many people as she can to connect with nature through the wisdom of flowers, the intelligence of energy healing and the alchemy of connection through circles. By nurturing their souls and empowering them to love themselves fiercely, be the beautiful wildflower that they are and live a life in full bloom.
Tracy's qualifications : Internationally Certified Life & Health Coach, Reiki & Flower Essences Practitioner, Sacred Circle Facilitator, Youth Mentor and Yoga Teacher 200hr teacher training.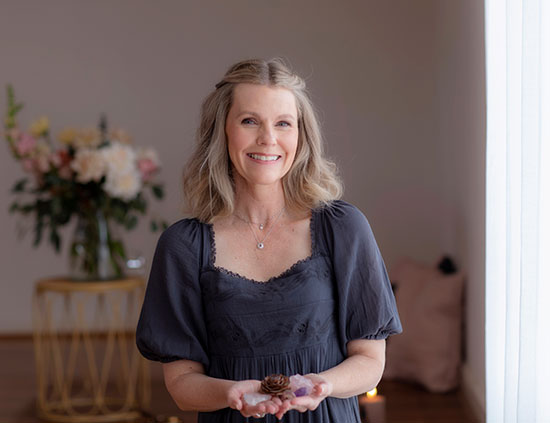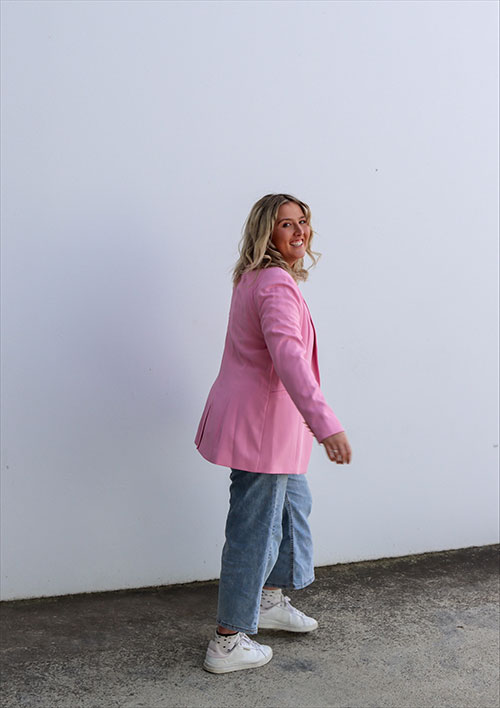 Maddi
Maddi Green is a passionate storyteller, expressing her creativity through various roles as a journalist, podcaster presenter, producer, photographer, and videographer.
Her work with esteemed platforms like TheCBRWoman, The Owl, UcUncover, Hilltop Council, Capital Radio, UCFM and the University of Canberra just to name a few showcases her ability to make a positive impact and collaborate with diverse clients.
As a small business owner of Maddi Green Photo & Film, she finds joy in capturing the essence of love, joy, and unforgettable moments for her clients.
Outside of her professional pursuits, Maddi's love for adventure shines through her travels and thrilling escapades, while her cherished moments are spent with loved ones and engaging in sports. Her boundless enthusiasm and radiant personality makes her a delight to be around.
We need this connection and community more than ever, in our personal lives, small businesses and collectively. The BOSS Club supports and uplifts other small businesses and provides the opportunity to meet new and inspiring women along the way.
I joined the BOSS club because I love it's purpose and vision for women led businesses. As proud as I am of my business, sometimes trying to do it all can be relentless. Being able to reach into a community that understands, is supportive and filled with knowledge is something that's priceless in getting us through the tough times and pushing us forward to achieving our goals.
Join theCBRwoman community
As a member of theCBRwoman, you'll get:
✔️A thoughtful welcome gift pack
✔️Access to member-only events
✔️Priority access and discounted pricing for all our events
✔️Priority market stallholder placement and discounted fees
✔️Access to exclusive content and resources
PLUS engagement with the team, retreats and mentorship, and presentation and sponsorship opportunities.
AND, a 100% local community of supportive women, right here in your own backyard – so you can share your stories, experiences and growth with people who really get it.