BOSS WOMAN 69 SHE BUILDS HOMES
A SHIRAZ WITH CARLY DEWY FROM SHE BUILDS HOMES
What is your drink of choice?
Almond milk latte throughout the day, a glass of red (pinot/shiraz) at the end of the day, and an espresso martini with my pals if we're feeling fancy.
Tell us a little bit about yourself? 
I'm recently 30 and so happy about it – I feel like I'm coming into my own in my 30's. I'm very happily married to Nick and we have two sons, Dash (5) and Theo (3). We moved to a property outside Canberra a couple years ago and we can't believe how lucky we are to live here. It came with two houses and lots of land. Since we've been here we have renovated and extended our house, the other house for my parents and have moved in all the farm animals you can imagine. 
My family has been in Construction since they landed in Australia in the 1960s and so it was a natural path for me to take. I got my builders licence in 2011 and have been building ever since. 
Tell us about She builds homes and how it came to be?
I started She Builds Homes in 2019 after I finished a dual occupancy (two homes on what was originally one block) in North Canberra. It was the first project I had managed from the design to construction and staged and sold on my own. After selling them I realised that I wanted to share my passion and work with others and take on more clients to help people create their dream home.
How can we support She builds homes?
Follow along @shebuildshomes if you're into interiors and building, renovating and styling! Share my work with your friends if you think they'd like it. I am taking on design clients at the moment but am booked for construction work for the next 12months. So if you need help transforming a room or sourcing materials for a reno or need help choosing colours and materials for a new build or anything really, send me an email at hello@shebuildshomes.com.au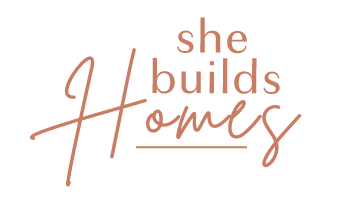 Any advice for those wanting to turn their dream into a reality?
We need more women in construction so if you're interested, please jump in! It can be intimidating and being on a construction site as a woman is not an easy thing to do, but there is room for you! Stick with it and hold your ground. When it comes to sharing your work and starting your own company, there will never a right time and nothing will ever be perfect before you launch. You just have to run with it and work on it as you go.