BOSS WOMAN 035 IN SPIRITS HANDS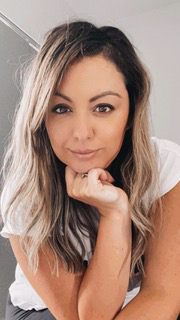 AN ENGLISH BREAKFAST TEA WITH SAM FROM IN SPIRITS HANDS
What is your drink of choice?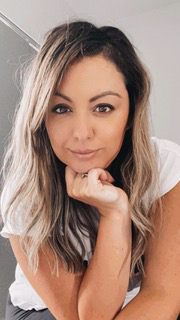 I absolutely love Mineral Water and good cup of English breakfast tea in the morning!
Tell us a little bit about yourself? 
Hello, I'm Sam! 
A Business owner, Wife, Mum of 4 and crazy about crystals! 
I own two businesses – In Spirits Hands and Aligned + Gemmed (an Online Crystal Store).
It's a busy wild time in our household, but I wouldn't change it for the world. When I'm not taming my clan, I'm focusing on my business, connecting to my clients, and enjoying life. 
I love reading, educating myself on personal development and connecting with like minded women.
I've recently developed a love of chocolate and I've started running again – I plan to compete in a marathon in the next 12-18months. 
Tell us about In Spirits Hands and how it came to be?
I had a really hard time when I became a single mum at 25, I lost so much of myself in the process and didn't know who I was. I had to rebuild myself from the ground up. 
My own journey inspired me to create a safe, non-judgemental place for people to connect to themselves, their intuition and begin the process of overcoming all of their fears, anxieties, worries, overwhelm and worthlessness. 
It was during this period where I gained the skills to become a qualified Energy Therapist/Intuitive Healer and Life Coach. 
My driver was to be the person I couldn't find and needed when I was at my lowest point. I was someone who had been at the pits of despair and so I became the person I needed and now offer that for others;  an open, compassionate and understanding heart – to just be and hold space for someone to heal. 
Healing for me came through as spirituality, throughout my journey I've learnt and understood that spirituality has been defined as the process of learning to love yourself and because of this I've become determined to bridge the gap between WOO WOO (spirituality) and the modern day woman! 
We all have intuition and as I've seen with all the men and women I've helped – Their intuition has become their greatest asset when it comes to making the right decisions and choices in their lives! 
My clients have gone from living in Misalignment (feeling bad about themselves, making choices that don't serve them) to living in alignment and transforming their lives, relationships and careers in a relatively short period of time. 
It's absolutely magical to witness and such an honour! 
How can we support In Spirits Hands?
Follow me on Instagram and Facebook @inspiritshands and at @alignedandgemmed or add me as friend on Facebook – Samantha Calvani.
Reach out to me for a chat and see how I can support your personal growth and development to deepen the connection to your intuition and overcome your fears, anxieties and any thoughts of "I'm not good enough"
I work on healing blocked energy within your physical being and soul as well helping you gain a positive mindset to tackle and address everything that is challenging you. 
Any advice for those wanting to turn their dream into a reality?
Invest in yourself, just as much as you invest into your business or any other area of your life. Do the inner work and keep moving forward. It's a journey to be embraced, honoured and most importantly enjoyed! 
It's not always easy – but no one ever changed, by staying where they were!